SOLTEC•HEALTH USER MANUAL
(1) Power Cable & Adapter (Assemble these two components first, firmly insert the power cord into) Z•GEN
(1) Z•GEN
(1) Z•TRACK
(1) Power Cord
(1) Charging Cord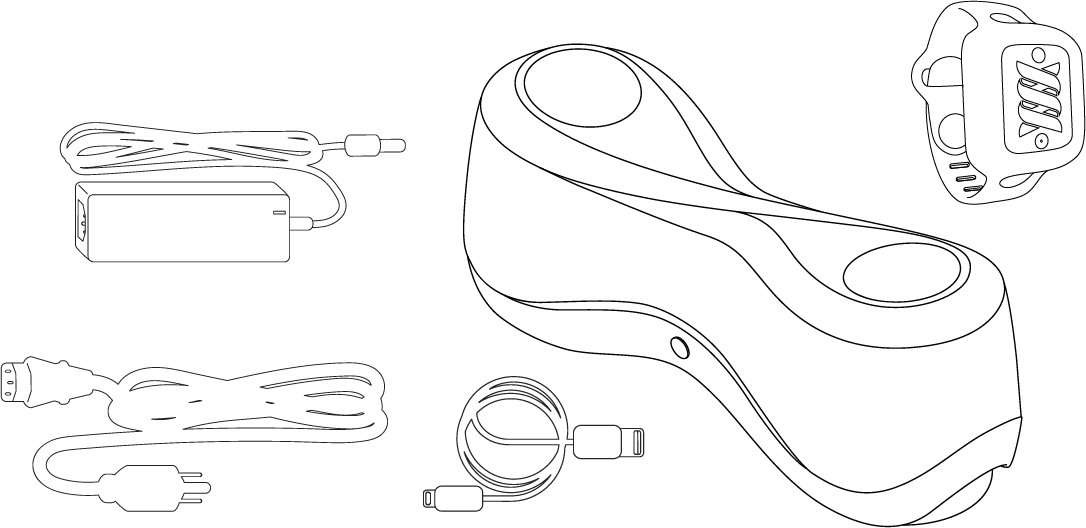 When you open the box, you should see the following contents:
Z•GEN
Z•TRACK and a smaller band
USB Charging Cord for Z•TRACK
Power brick & Wall cord
1. Watch the Unboxing Video
Download SOLTEC•Z
™
scan the QR code that is appropriate for your device.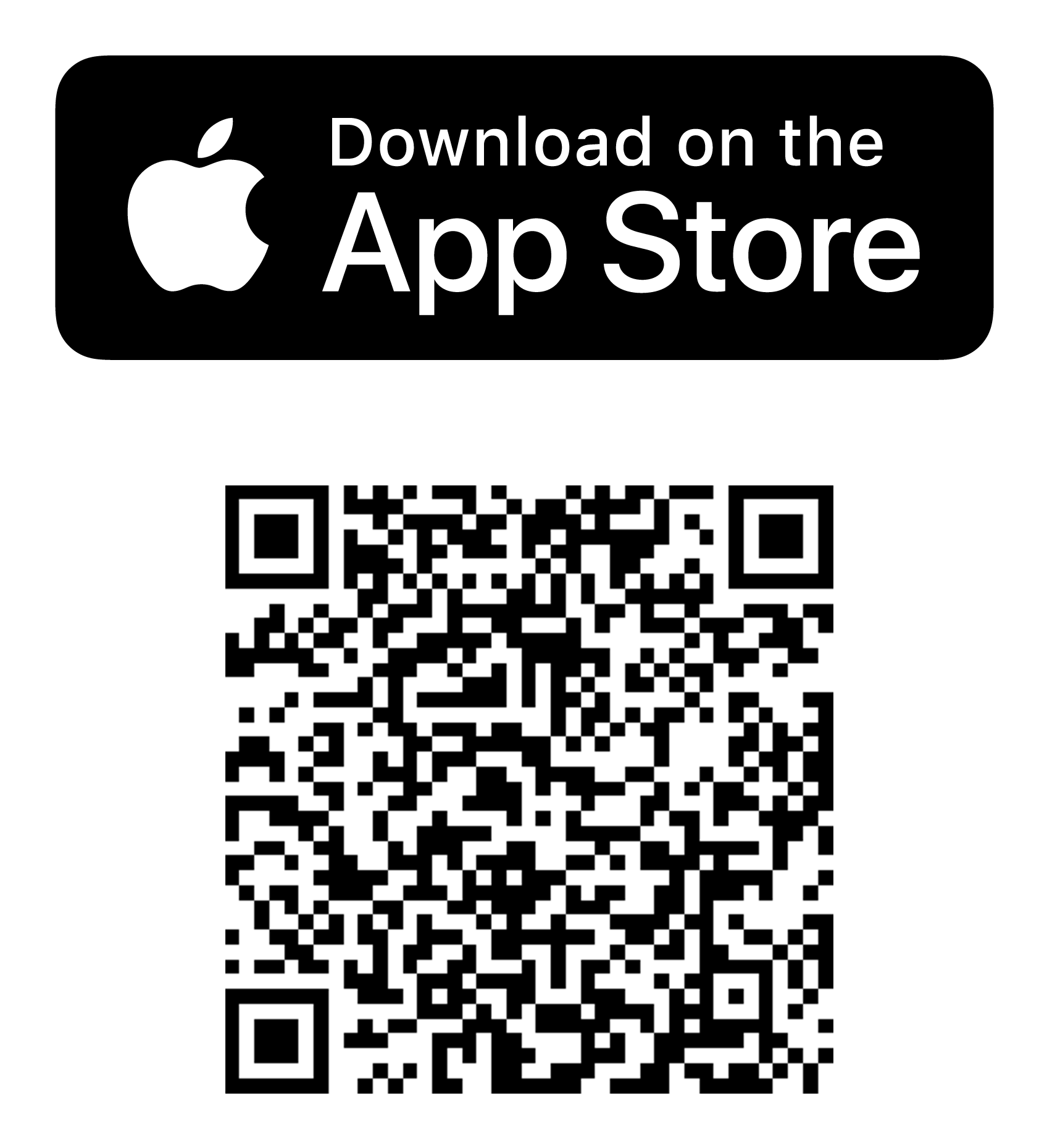 Apple and the Apple logo are trademarks of Apple Inc.
App Store is a service mark of Apple Inc.
Google Play and the Google Play logo are trademarks of Google LLC.
2. Watch the Relaxation Session Video
3. Important Safety Information
Read carefully before use.  Failure to follow these instructions could result in serious injury or death.
DISCLAIMER: The SOLTEC•HEALTH System is not intended to diagnose, treat, cure or prevent disease. It is not a substitute for professional medical advice. Individual results vary. Consult with a medical provider for solutions that may be appropriate for you.
WARNING: Maintain a safe distance of at least six inches between the System and a pacemaker, implantable cardioverter defibrillator, deep brain stimulator or other active implantable device. The System may interfere with these devices and increase the risk of injury, illness or death. Consult with a medical provider on whether the System could affect your implantable medical device.
CAUTION: The System has not been tested during pregnancy. Consult with a medical provider prior to use during pregnancy.
CAUTION: The System has not been tested on persons under the age of 18. Consult with a medical provider before use by anyone under the age of 18.
Avoid placing the System and power cord where they could present a tripping hazard.
Do not use the Z•GEN™ Magnetic Conditioner around water or other liquids. Like any electronic device, there is an electrocution risk if you get Z•GEN wet when it is plugged in.
The Z•TRACK™ Analyst contains electronics and therefore to avoid damage do not expose to water or liquids.    Z•TRACK may be cleaned with a soft cloth.
Do not disassemble Z•GEN, Z•TRACK or the power adapter.  There are no repairs you can safely perform.
If you experience redness or skin irritation on your wrist due to the Z•TRACK band, remove it immediately. If symptoms persist longer than 2-3 days of not using Z•TRACK, please contact a dermatologist.
Changes or modifications not expressly approved by the party responsible for compliance could void the user's authority to operate the equipment.
Consignes de sécurité importantes
A lire attentivement avant toute utilisation. La non-observation de ces instructionspourrait entraîner des blessures graves ou la mort.
CLAUSE DE NON-RESPONSABILITÉ: Le système d'amélioration du sommeil de SOLTEC•HEALTH ne vise pas à diagnostiquer, traiter, guérir ou prévenir les maladies. Il ne constitue pas un substitut à un avis médical professionnel. Chaque individu peut obtenir des résultats différents. Consultez un fournisseur de soins médicaux pour connaître les solutions qui pourraient vous convenir.
AVERTISSEMENT: Maintenez une distance de sécurité d'au moins quinze centimeters entre le SOLTEC•SES™ et un stimulateur cardiaque, un défibrillateur automatique implantable, un stimulateur cérébral profond ou tout autre dispositif implantable actif. Le système peut interférer avec ces dispositifs et augmenter le risque de blessure, de maladie ou de décès. Consultez un fournisseur de soins médicaux pour savoir si le système pourrait affecter votre dispositif médical implantable.
ATTENTION: Le SOLTEC•HEALTH Système n'a pas été testé pendant la grossesse. Consultez un fournisseur de soins médicaux avant toute utilisation pendant la grossesse.
ATTENTION: Le Système n'a pas été testé sur des personnes âgées de moins de 18 ans. Consultez un fournisseur médical avant de l'utiliser sur des personnes de moins de 18 ans.
Évitez de placer le Système et le cordon d'alimentation à un endroit où ils pourraient présenter un risque de trébuchement.
N'utilisez pas le conditionneur magnétique Z•GEN™ à proximité d'eau ou d'autres liquides. Comme tout appareil électronique, il existe un risque d'électrocution si la prise Z•GEN se mouille lorsqu'elle est branchée.
Le Z•TRACK™ Analyst contient de l'électronique et donc, pour éviter tout dommage, ne l'exposez pas à l'eau ou aux liquides. Le Z•TRACK peut être nettoyé avec un chiffon doux.
Ne pas démonter le Z•GEN, le Z•TRACK ou l'adaptateur secteur. Il n'existe aucune réparation que vous pouvez effectuer en toute sécurité.
Si vous ressentez une rougeur ou une irritation cutanée sur votre poignet due à la bande Z•TRACK, retirez-la immédiatement. Si les symptômes persistent au-delà de 2 ou 3 jours sans utilisation du Z•TRACK, veuillez contacter un dermatologue.
Support and Questions
If you have any questions about setting up or using your SOLTEC HEALTH System, or you have any issues with your product, please refer to the Frequently Asked Questions (FAQs). If you can't find what you're looking for, send us an email at [email protected].
Product Specifications
Battery:  250 mAh Lithium Polymer
Charging:  Wired via outlet/AC/DC usb plug
Operating Temp:   55-125 F
Charging Cable: USB – MICRO
Charging Time: Between 20 – 150 minutes depending on Z•TRACK starting charge level.
Memory:  To sync Z•TRACK daily with the SOLTEC•Z App. Z•TRACK is capable of storing up to 30 days' worth of data depending on type and frequency of use.
Red and Green Light-Emitting Diodes (LED):  In the visible color range.
Connectivity:  Bluetooth Low Energy
Firmware Updates: Automatic firmware updates via SOLTEC•Z App.
Equipment intended to be supplied by an external 5Vdc supply that complies with IEC 62368-1 standard.
Limited Warranty Terms and Conditions
What is Covered?
The SOLTEC HEALTH™ System consisting of the Z•GEN™ Magnetic Conditioner and Z•TRACK™ Analyst are warranted against original defects in materials and workmanship for a period of one year from the date of purchase, when used for normal domestic purposes. Within this period, SOLTEC HEALTH will, at its sole option, replace any components that fail in normal use. Please contact SOLTEC via email at [email protected] to schedule warranty service.
What is Not Covered?
SOLTEC HEALTH shall not be liable for costs or damages incurred as a result of, due to, or from:
Cosmetic damage, including but not limited to scratches, dents and broken plastic on ports unless failure has occurred due to a defect in materials or workmanship.
Damage caused by accident, abuse, misuse, water, flood, fire, power surges or other acts of nature or external causes.
Careless operation or handling.
Use of the System other than for normal domestic purposes within the United States, e.g. for commercial or rental purposes.
Repairs or alterations carried out by unauthorized parties or agents.
Normal wear and tear (e.g. fuse etc.).
Loss and theft.
Purchases of the System from unauthorized dealers or sources.
Warranty Limitations and Exclusions
TO THE MAXIMUM EXTENT PERMITTED BY APPLICABLE LAW, THE WARRANTIES AND REMEDIES CONTAINED IN THIS LIMITED WARRANTY ARE EXCLUSIVE AND IN LIEU OF, AND SOLTEC HEALTH EXPRESSLY DISCLAIMS, ALL OTHER WARRANTIES AND REMEDIES, WHETHER EXPRESS, IMPLIED, STATUTORY, OR OTHERWISE, INCLUDING WITHOUT LIMITATION ANY IMPLIED WARRANTY OF MERCHANTABILITY OR FITNESS FOR A PARTICULAR PURPOSE, STATUTORY REMEDY OR OTHERWISE. THIS LIMITED WARRANTY GIVES YOU SPECIFIC LEGAL RIGHTS, AND YOU MAY HAVE OTHER LEGAL RIGHTS, WHICH VARY FROM STATE TO STATE. 
IF IMPLIED WARRANTIES CANNOT BE DISCLAIMED, THEN SUCH WARRANTIES ARE LIMITED IN DURATION TO THE DURATION OF THIS LIMITED WARRANTY. SOME STATES DO NOT ALLOW LIMITATIONS ON HOW LONG AN IMPLIED WARRANTY LASTS, SO THE ABOVE LIMITATION MAY NOT APPLY TO YOU. 
IN NO EVENT SHALL SOLTEC HEALTH BE LIABLE IN A CLAIM FOR BREACH OF WARRANTY FOR ANY INCIDENTAL, SPECIAL, INDIRECT OR CONSEQUENTIAL DAMAGES, WHETHER RESULTING FROM THE USE MISUSE OR INABILITY TO USE THIS PRODUCT OR FROM DEFECTS IN THE PRODUCT. SOME STATES DO NOT ALLOW THE EXCLUSION OF INCIDENTAL OR CONSEQUENTIAL DAMAGES, SO THE ABOVE LIMITATIONS MAY NOT APPLY TO YOU. 
SOLTEC HEALTH retains the exclusive right to replace (with a new or newly-overhauled replacement product) the System or its components or offer a full refund of the purchase price at its sole discretion.  SUCH REMEDY SHALL BE YOUR SOLE AND EXCLUSIVE REMEDY FOR ANY BREACH OF WARRANTY.  THE WARRANTY IS NOT TRANSFERABLE.
Limitation of Liability
TO THE MAXIMUM EXTENT PERMITTED BY APPLICABLE LAW, THE ENTIRE LIABILITY OF SOLTEC, ITS AFFILIATES AND SUPPLIERS FOR ALL CLAIMS RELATING TO THESE TERMS SHALL BE LIMITED TO THE AMOUNT YOU PAID FOR THE SERVICES DURING THE SIX (6) MONTHS PRIOR TO SUCH CLAIM COLLECTIVELY. SUBJECT TO APPLICABLE LAW, SOLTEC, ITS AFFILIATES AND SUPPLIERS ARE NOT LIABLE FOR ANY OF THE FOLLOWING: (A) INDIRECT, SPECIAL, INCIDENTAL, PUNITIVE OR CONSEQUENTIAL DAMAGES; (B) DAMAGES RELATING TO FAILURES OF TELECOMMUNICATIONS, THE INTERNET, ELECTRONIC COMMUNICATIONS, CORRUPTION, SECURITY, LOSS OR THEFT OF DATA, VIRUSES, SPYWARE, LOSS OF BUSINESS, REVENUE, PROFITS OR INVESTMENT, OR USE OF SOFTWARE OR HARDWARE THAT DOES NOT MEET SOLTEC SYSTEMS REQUIREMENTS. THE ABOVE LIMITATIONS APPLY EVEN IF SOLTEC AND ITS AFFILIATES AND SUPPLIERS HAVE BEEN ADVISED OF THE POSSIBILITY OF SUCH DAMAGES. THIS AGREEMENT SETS FORTH THE ENTIRE LIABILITY OF SOLTEC, ITS AFFILIATES AND YOUR EXCLUSIVE REMEDY WITH RESPECT TO THE SERVICES AND ITS USE.
Intellectual Property Rights
SOLTEC, SOLTEC HEALTH System, Z•GEN Magnetic Conditioner, Z•TRACK Analyst, SOLTEC•Z App, SOLTEC•S App, S•GEN Magnetic Conditioner are trademarks or service marks owned by Round River Research Corporation.
© 2020 Round River Research Corporation. All rights reserved.
FCC Statement
This device complies with Part 15 of the FCC Rules. Operation is subject to the following two conditions: (1) this device may not cause harmful interference, and (2) this device must accept any interference received, including interference that may cause undesired operation.
Note: This equipment has been tested and found to comply with the limits for a Class B digital device, pursuant to part 15 of the FCC Rules. These limits are designed to provide reasonable protection against harmful interference in a residential installation. This equipment generates, uses and can radiate radio frequency energy and, if not installed and used in accordance with the instructions, may cause harmful interference to radio communications. However, there is no guarantee that interference will not occur in a particular installation. If this equipment does cause harmful interference to radio or television reception, which can be determined by turning the equipment off and on, the user is encouraged to try to correct the interference by one or more of the following measures:
Reorient or relocate the receiving antenna.
Increase the separation between the equipment
and receiver.
Connect the equipment into an outlet on a circuit
different from that to which the receiver is connected.
Consult the dealer or an experienced radio/TV
technician for help.
Accessing Regulatory Information Electronically
From Soltec•Z™ smartphone application

Access "Settings" from the 'My Night' view
Select Z•TRACK
Access submenu "Regulatory"
RF Exposure
This product is a radio transmitter and receiver. It's designed not to exceed the emission limits for exposure
to radio frequency (RF) energy set by the Federal Communications Commission. This transmitter must not be co-located or operating in conjunction with any other antenna or transmitter.
Canada
This device complies with Industry Canada license-exempt RSS standard(s). Operation is subject to the following two conditions:
1. This device may not cause interference; and
2. This device must accept any interference, including interference that may cause undesired operation of the device.
Ce dispositif est conforme à la ou aux normes RSS exemptées de licence d'Industrie Canada. Son fonctionnement est soumis aux deux conditions suivantes:
1. Ce dispositif ne doit pas causer d'interférences ; et
2. Cet appareil doit tolérer toute interférence, y compris les interférences susceptibles de provoquer un fonctionnement indésirable de l'appareil.
EU – Declaration of Conformity
The SOLTEC HEALTH System meets the essential requirements and other relevant provisions of Directive 2014/53/EU. A copy of the signed and dated Declaration of Conformity is available on request.
Disposal Information
Pursuant to and in accordance with Article 14 of the Directive 2021/19/EU of the European Parliament on waste electrical and electronic equipment (WEEE), and pursuant to and in 2006/66/EC of the European Parliament on batteries and accumulators and waste batteries. Please dispose used (WEEE) according to national laws and regulations with electrical waste. It should not be mixed with general household waste.
California Proposition 65
WARNING: This product may contain chemicals known to the State of California to cause birth defects or other reproductive harm.
SOLTEC

•

HEALTH – Quick Start Guide
Download the Quick Start Guide from here.
The SOLTEC•HEALTH System is not intended to diagnose, treat, cure or prevent disease and should not be used as a substitute for professional medical advice, diagnosis or treatment.  All content available through the products and services of SOLTEC HEALTH is for general informational purposes only.  This product and system are protected by one or more of the following patents: U.S. Pat. Nos. 7,918,308; 8,668,045; 9,949,004; 11,478,604; and other U.S. and foreign patents pending.