Sleep Right with SOLTEC
™
Here for stress relief? Click Stress Less!
Imagine sleeping better and feeling less stress 24/7.
That's what you get with the SOLTEC HEALTH System. It's a scientifically designed system that not only improves your sleep quality but also significantly reduces your stress levels. Picture this – within just a few weeks, you're waking up more refreshed, feeling less stressed and living life with more energy and focus. That's the power of the SOLTEC HEALTH System, delivering the rest and relaxation you need, when you need it.
Managing your sleep is a valuable gift, but enhancing it is a dream come true.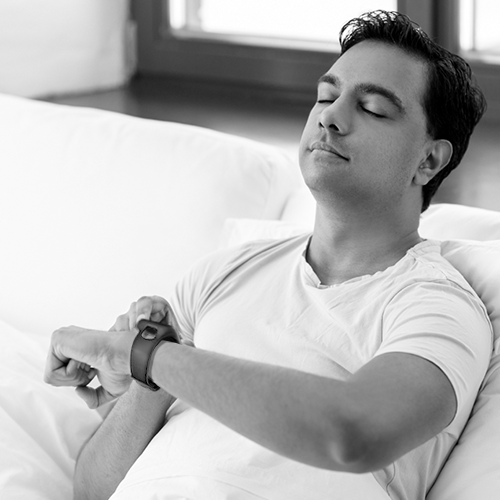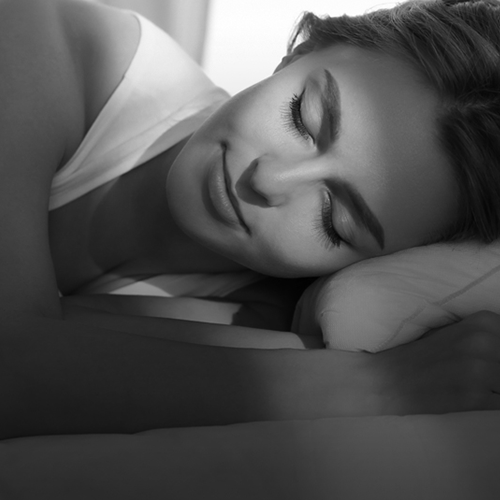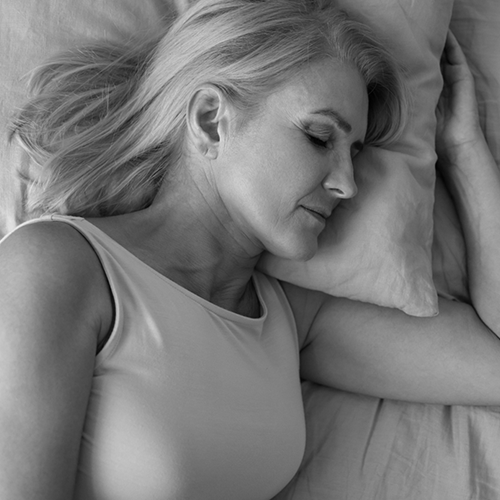 Sleep Better • Stress Less
Despite the SOLTEC System's sophistication, it is simple to use. 
Just Tap Twice to Sleep – It's that Easy!
Ever wished for a switch to turn off stress and turn on good sleep? The SOLTEC HEALTH System is your answer. It's built right into the SOLTEC•Z™ App, just tap the icon, then tap the button and you're on your way to healthy sleep restoration.  It's a scientifically crafted sleep solution that significantly reduces stress levels, leading to a rejuvenating sleep experience. Within weeks, you'll wake up feeling refreshed, full of energy, and ready to take on the world.
Experience the life-changing power of sleep – SOLTEC SLEEP RIGHT
DEVELOPED BY SLEEP EXPERTS
The SOLTEC•Z
™

App

Precisely monitors your sleep. Inspect your previous night's sleep via the Z•TEST sleep score and sub scores, the commands that Z•TRACK issued to Z•GEN, and trend data from your recordings.
Z•TEST
Assesses your Sleep Time, Depth, REM, Onset, and Efficiency. The aggregate score is reported as a single score ranging from 0 to 100.
SLEEP TIME
Defined as total time spent sleeping, not simply time in bed.
DEPTH
Deep sleep is also called delta or slow wave sleep. During deep sleep, critical healing and repair processes are at work. As we age, deep sleep typically declines substantially.
REM
The stage of sleep associated with procedural learning and memory.
ONSET
The time it takes to fall asleep and remain asleep for at least 3 minutes.
EFFICIENCY
Reveals how efficient your sleep time is plus how much or little your sleep is disrupted throughout the night.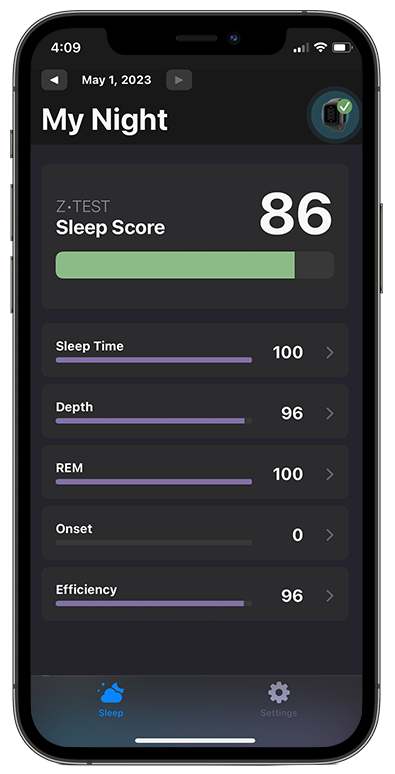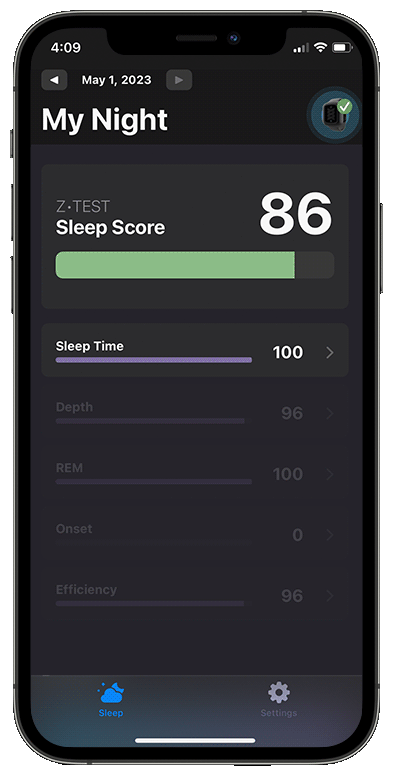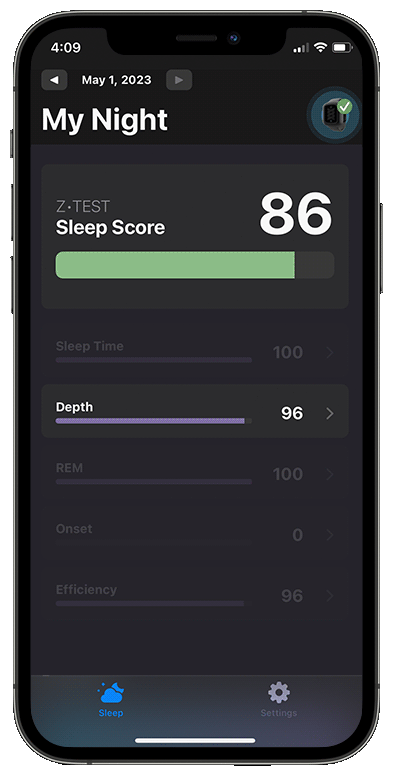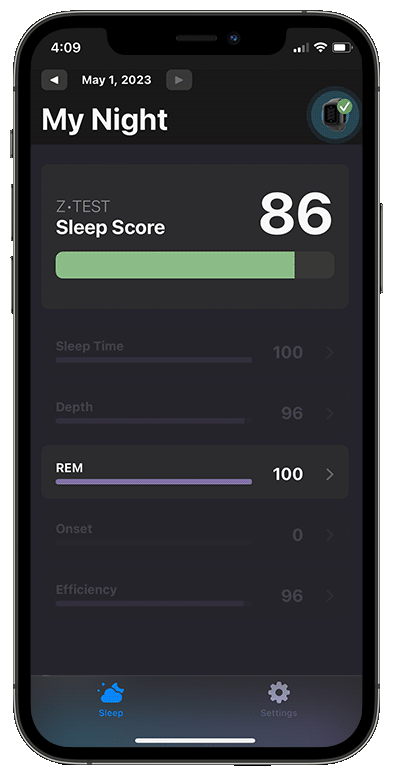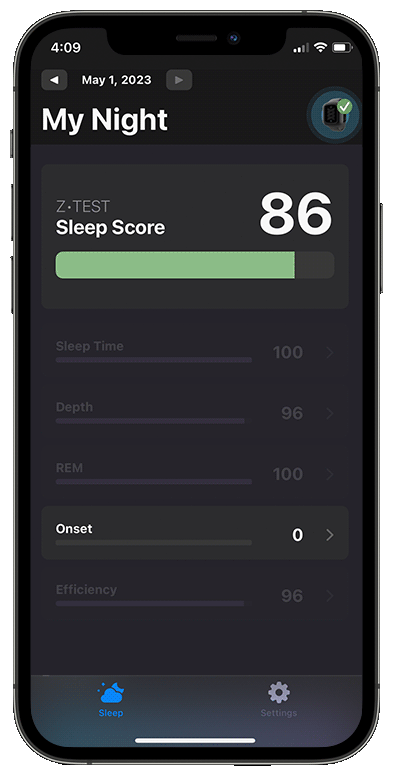 What is a Good Sleep Score?
SLEEP STAGES REPORT
Provides a deeper dive into your sleep data. The sleep histogram is an illustrative diagram that shows the timing of the different stages of sleep (W – Wake, R – REM sleep, L – Light sleep, and D – Delta sleep).
Benchmark your typical sleep patterns, as compared to INS (Ideal Normal Sleep) data.
INS is defined as the normal sleep pattern of a normal, healthy 20-year-old human being who also routinely observes healthy sleep practices. Such individuals sleep approximately 7 ½ to 8 hours per night. About 50% of their sleep time is spent equally divided between Delta (deep) and REM (dream) sleep (2 hours of each), with the remaining 50% (4 hours) spent in light sleep.
THE OVALS
Represent the frequency adjustments that Z•GEN has made based on instructions from Z•TRACK. Pink corresponds to sleep induction, purple to enhance deep sleep and blue for REM sleep. M is for movements and A is for arousals, which indicate rapid changes in your heart rate.
DETAILS
Learn the percentage of the recording and time spent in Delta, REM, and Light Sleep, and Wake. Reviewing this information regularly will give you a deeper understanding of your sleep.
Stages of Sleep: The Ultimate Guide
TRACK YOUR SLEEP TRENDS
Your sleep metrics are reported after each nightly session and trended over longer time periods. View how your Sleep Time, Depth, or Efficiency have progressed over a week, month, quarter, or year. Never has sleep data been this complete and precise. All your data is stored in a secure, encrypted database.
SOLTEC•Z also monitors your blood oxygen levels and records snoring sounds and displays when these events are associated with oxygen drops. Such sleep disruptions can fragment your sleep by causing sleep arousals and awakenings.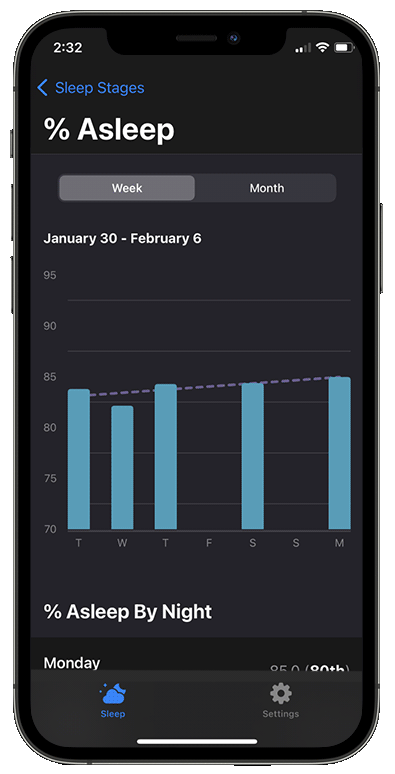 Sleep is Integral to Health
What to Expect
Sleep deteriorates over time; Restoration takes time
• During the first three nights of recording, the system collects your baseline sleep data to determine the length of your sleep cycles and the sleep stage patterns within each sleep cycle. From there, the system will continue to learn and adjust to your patterns and provide ongoing benefits. 
• Early results may take several weeks or longer. Most importantly, pay attention to how well you slept and how you feel during the day, independent of the scores. Are you experiencing fewer awakenings during the night or more energy during the day? These signs will let you know if the system is working for you. 
GET STARTED WITH

SOLTEC

•

HEALTH
As low as $84/month with Affirm.
The SOLTEC•HEALTH System is not intended to diagnose, treat, cure or prevent disease and should not be used as a substitute for professional medical advice, diagnosis or treatment.  All content available through the products and services of SOLTEC HEALTH is for general informational purposes only.  This product and system are protected by one or more of the following patents: U.S. Pat. Nos. 7,918,308; 8,668,045; 9,949,004; 11,478,604; and other U.S. and foreign patents pending.