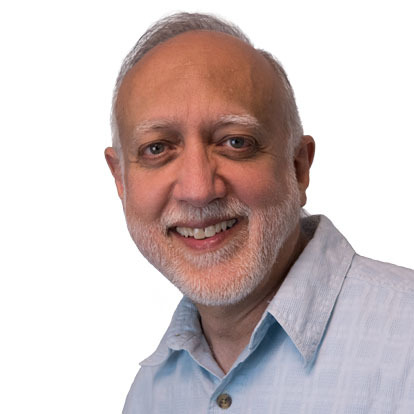 Dan Cohen, MD
Chairman and CEO
Dr. Daniel Cohen is a Neurologist and a serial entrepreneur. He co-founded Round River Research Corp. to study the healing effects of synchronized sounds, vibrations and magnetic fields. He is the inventor of the SolTec Lounge, designed to rapidly induce profound states of meditation, which was introduced in 2013.
Previously, Dr. Cohen co-founded and managed CNS Inc. until it was acquired by GlaxoSmithKline in 2006 for $566M. CNS, a developer and marketer of hi-tech medical products (brainwave monitors and sleep disorders diagnostic equipment) was best known for its consumer products, the Breathe Right® nasal strip and the FiberChoice™ chewable fiber supplement.
He holds numerous patents related to EEG signal processing, physiologic analysis algorithms and additional utility patents related to synchronized sound, vibration and magnetic fields and their effect on the body and mind.
Dr. Cohen has a BS from Penn State University and received his MD from Temple Medical School with high distinction. His training is in Neurology at the University of Minnesota and is a Diplomat of the American Board of Psychiatry and Neurology.
Peter Weissman
Chief Operating Officer
With more than 20 years of experience in the medical device industry, Peter Weissman has a proven track record in launching innovative products on a global scale for Fortune 500 and start-up companies.  As a senior marketing executive at Smith & Nephew, he led a global team of marketing, sales and R&D professionals for the company's $200 million knee arthroscopy business. During his tenure, Mr. Weissman spearheaded the introduction of new products and management of surgeon relationships, resulting in 20% growth for the franchise. Recently, Mr. Weissman managed K2 Marketing LLC, a consulting firm serving corporate and physician clients with branding, website development, market research, digital marketing, and product launch planning and execution.
Mr. Weissman possesses a unique blend of traditional leadership strengths in strategic planning, business development, and product marketing combined with brand strategy, social media management, and consumer marketing. Mr. Weissman has a BA degree in History from Harvard College and an MBA in Marketing from Santa Clara University.
Bob Hiben
Chief Financial Officer
Bob Hiben has provided finance, administrative and operational leadership for several entrepreneurial organizations.  He served in Chief Financial Officer capacities with Halo Innovations (2007-2018), 2nd Swing (2003-2007), HighJump Software (2001-2003), and Funco (1992-2000).  His earlier experiences were with Bretts Department Stores and Wilsons Leather.
Career highlights include providing financial and operational leadership to Halo Innovations which grew annual revenues from $6M to more than $50M and generated strong EBITDA results.  His experience with rapid growth is further demonstrated by his tenure at Funco, growing annual revenues from $6M to $220M, completing an IPO and subsequent follow-on, and culminating in a successful sale to Barnes and Noble.  Fortune magazine repeatedly recognized Funco as one of the fastest growing companies in America.
Mr. Hiben holds an MBA from Carlson School of Management and a BA from Michigan State University.  He enjoys travel with his wife and his favorite pastime is fishing.
Barry McMahon
Vice President, Creative
For over thirty years, Barry McMahon has specialized in crafting creative solutions for a wide range of businesses and industries. His expertise spans web design, graphic arts, branding, software app development and video production.
Years of design work for Prince produced some of the best loved moments of the artist's career. Mr. McMahon's scenic film credits include A Simple Plan, Grumpy Old Men and Little Big League. Scenic work for the Rainforest Café in Disneyworld and Famous Dave's in Calhoun Square paved the way to his role as Creative Director for Famous Investments Inc., where he developed the Bilimbi Bay brand.
As Senior Designer and Creative Services Manager for Video Update, a 450 store video rental/retail chain, Mr. McMahon exploited the power of industry related software applications to create remarkably engaging graphics, animation and multi-media presentations helping the chain grow to 750 stores.
Mr. McMahon oversees SOLTEC HEALTH's branding, digital, and graphic design functions. He earned his BFA degree from Bowling Green State University in Ohio and now calls South Minneapolis home, where he lives with his wife and family.
David Cohen
Director, Operations and Product Development
Since 2006, David Cohen has directed Round River Research's manufacturing and product development activities. His primary responsibilities include overseeing all phases of product design and development from product definition through production and release. Working closely with other departments, Mr. Cohen ensures that products shipped effectively meet specifications, customer needs, quality goals and regulatory requirements.
Mr. Cohen formulates and executes long-term plans for cost/profit control, material efficiency and inventory management. He is a co-author on several patents and has been instrumental in transitioning the Company's technology into manufacturable products.
Mr. Cohen earned a BS degree in Electrical Engineering from Iowa State University and enjoys camping and canoeing in the great outdoors with his wife, daughter and dog.
Jason Cohen
Director, Customer Service
Jason Cohen is passionate about providing the highest quality experience and education for every customer journey. Collaborating with Sales and other departments, Mr. Cohen manages all customer related inquiries, training activities, and technical service levels. As the Company continues to grow, Mr. Cohen is developing and executing a vision to scale the customer service team through increased process efficiencies, automation, and customer relationship systems.
Prior to his role at Round River Research, Mr. Cohen owned a computer networking company, a cyber-cafe, and worked with precious metals and counseled small business startups. Mr. Cohen opened his first company at 18 and is an enthusiastic practitioner of meditation, qigong and kung fu.
SOLTEC HEALTH -MEDICAL ADVISORS
Dr. Martin Scharf, PhD, FABSM
Chief Medical Advisor
Dr. Martin Scharf started his career in sleep research at UCLA, where he became the Associate Director of arguably the first Sleep Disorders Center in the U.S., under the direction of Dr Anthony Kales, a pioneer in the field of Sleep Medicine. He received his PhD from the Pennsylvania State University in Hershey and has been involved with the development and clinical testing of virtually every major pharmaceutical used in treating disorders of sleep and wakefulness, resulting in over 250 scientific papers.
Dr. Scharf created and directed the first free-standing sleep disorders clinic in the US (Tristate Sleep Disorders Center) as well as this country's first sleep clinic satellite network. His work in fibromyalgia has resulted in the first demonstrated pharmacological reduction in alpha intrusion into sleep (non-restorative sleep).  Dr. Scharf has appeared as a guest on such shows as Today, Good Morning America and Oprah. Dr. Scharf left Tristate Sleep Disorders Center to join the Cleveland Sleep Research Center in 2013.
Bill Manahan, MD
Medical Advisor
Dr. Bill Manahan is Assistant Professor Emeritus of Family Practice and Community Health at the University of Minnesota Academic Health Center in Minneapolis. He has served on the Board of Directors of the American Board of Integrative Holistic Medicine as well as the Board of Directors for the Northwestern Academy of Homeopathy. He is a Past-President of the American Holistic Medical Association (now known as the Academy of Integrative Health and Medicine). He was the founding Program Director for Minnesota's first rural Family Medicine Residency program. Dr. Manahan is currently the Co-Chair for the Minnesota Holistic Medicine Group which is composed of 800 healthcare practitioners in Minnesota who come together to do multidisciplinary education and referrals.
SOLTEC HEALTH – BOARD OF DIRECTORS
Ellen Cohen
Board Member
Ellen Cohen co-founded Round River Research, Corp. and is a member of its Board of Directors. For more than 20 years she has played a key role in product research, development and testing and has co-produced product educational videos for practitioners and product users.
Ms. Cohen has also conducted active clinical research within the Company to develop testing protocols, work with end users and evaluate clinical results.
In addition to her Board role, Ms. Cohen continues to provide financial oversight of daily operations and to evaluate clinical test sites and protocols.
Rajiv Tandon, Ph.D.
Board Member
Dr. Rajiv Tandon is Founder and Executive Director of The Institute for Innovators and Entrepreneurs.  Dr. Tandon is the author of "Planting Seeds" opinion column in Twin City Business magazine. He is a serial entrepreneur and an educator now combining his passion for entrepreneurship and education to develop more robust entrepreneurial enterprises in Minnesota.  He was listed by Twin City Business Magazine as one of the "200 Minnesotans You Should Know" for his focus on "EduTech".
As a Bush Leadership Fellow, his doctoral dissertation in entrepreneurship examined critical success factors in emerging companies that became the basis of the earliest and very successful program in Entrepreneurship at the University of St. Thomas where he was a tenured Professor. He was awarded the Edwin M. Appel Prize by the Price-Babson Program, Boston "for bringing entrepreneurial vitality to academia".
Dr. Tandon holds a Mechanical Engineering degree, with honors, from the Institute of Technology, Kharagpur, a M.S. in Operations Research, M.B.A. and Ph. D. in Entrepreneurship; all from the University of Minnesota.
Maximillian Fiore
Board Member
Max Fiore has spent the last 35 years developing advanced microprocessor-based electromechanical medical devices in the areas of in-vitro and in-vivo medical diagnostics, drug delivery, and patient monitoring systems. Recently, Mr. Fiore was Chief Product Development and Operations Officer at NxThera, Inc., a urology company developing novel products based on Convective Water Vapor Energy (WAVE®) technology for BPH and prostate cancer.  NxThera was sold to Boston Scientific for $408M in June of 2018.
Prior to NxThera, he was Chief Technology Officer at American Medical Systems, where he oversaw the creation of a pipeline of a significant number of new urological products.  He also led M&A efforts to acquire new technologies to enable increased growth for the company.  These efforts were key in the acquisition of AMS by Endo Pharma in 2011 for $2.9B; the largest medical device deal in the US that year.  Mr. Fiore received his BSEE and BS Engineering Science (with major in Bio-Medical Engineering) degrees from Northwestern University in Evanston, Illinois, and his MSEE degree from the University of Wisconsin, Madison.
Douglas L. Cooper,CPA
Board Member
Doug ​Cooper is a Board Director, adviser, investor, training leader and retired Ernst & Young (EY) Partner. Doug was a former Managing Partner at EY.  Mr. Cooper built and led a dominant health care and life science practice at EY.  Mr. Cooper was a member of EY's National Health Emerging Growth Market Leadership team and served as lead partner on Fortune 500 and Russell 3000 global companies as well as rapidly growing public and private entrepreneurial companies.
Mr. Cooper is a senior business advisor with more than 40 years of health care industry experience and expertise​.  He has unique Board Director qualifications, given his extensive industry experience, his strong technology background and his ability to serve as a financial expert under the Securities and Exchange Commission rules.  He has worked on or with all Board Committees, including serving as an Audit Committee Chair.  Mr. Cooper also has extensive experience in other industries including life sciences, technology, retail and distribution, financial services, real estate, services, communication and entertainment, etc.
Andy Painter
Board Member
Andrew Painter is a former practicing CPA, Attorney-at-Law, Author, Entrepreneur, and Media Representative, Andy spent over a decade of his professional career as a Partner with the 140,000 member firm Ernst &Young, LLP—serving as a Regional Director of Financial Planning for CEO's and high net worth individuals as well as National Director of Internet Tax Services and 21st Century International Think Tank Member.  Mr. Painter holds a BS Accounting degree (cum laude) from the University of Hartford and a JD from Western New England College.